Religious Liberty and Persecution: a Global Perspective (SBTS)
Holocaust Survivors' 70 Years of Trauma: 'I Could Cry Nonstop, Even Now' (The Telegraph)
Syrian Kurds 'Drive Islamic State Out of Kobane' (BBC)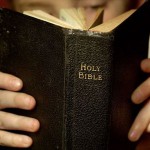 Your Next Bible Will Be a Hologram? Microsoft Invents the Future of Intensive Bible Study? (Christianity Today)
The Most (and Least) Bible-Minded Cities in America
(American Bible Society)
Missed Motherhood: A Casualty of the Sexual Revolution (Denny Burk)
How to Combat the Demonic (The Gospel Coalition)
Christians Watching the Super Bowl? (Reformation 21)
*News stories and editorials on this page do not necessarily represent the views of the BibleMesh editorial board. BibleMesh cannot control objectionable advertising on news sites.