The other day, I was at the checkout in a Louisville bookstore when I spied a display of refrigerator magnets with more or less humorous themes. Most were pretty snarky, some scatological, and a few proudly blasphemous. The first one that caught my eye featured an angler in a beautiful wilderness setting leaning over to net his catch. It read, "Give a man a fish and he'll eat for a day. Give him a religion and he'll starve to death while praying for a fish."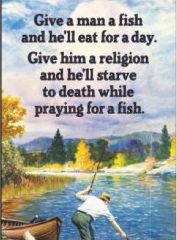 The same company sells magnets reading, "Religion: It's like science for idiots!"; "Morality is doing what is right no matter what you're told. Religion is doing what you're told no matter what is right"; and the oh so clever "Sure Jesus saves, but his 401K is in trouble too."
It makes you want to come back with something like, "Oh, yeah! Well Newton and Leibniz were Christians, and they simultaneously invented the calculus. And a monk named Gregor Mendel invented genetics"; or maybe "When the loving creator of the universe tells you to do something, morally acute people are prone to listen"; or "If you think 'Jesus saves' is a joke, just wait."
But back to the fish: Do they have a point? Does religion "make us so heavenly minded that we're no earthly good?" Well, certainly, we can all think of people who talk the language of Zion and marinate in their spirituality but have trouble getting around to hard, focused work.
The apostle Paul had to deal with deadbeats in the church. In 2 Thessalonians 3:10, he wrote, "If anyone is not willing to work, let him not eat." And in 1 Timothy 5:8, he was probably addressing slackers as well as scrooges: "If anyone does not provide for his relatives, and especially for members of his household, he has denied the faith and is worse than an unbeliever." Still, in general, Christianity is recognized as an industrious faith, hence, for instance, "the Protestant work ethic."
Maybe a better retort to the fish magnet would be, "Depends on the religion." After all, the economies of the traditionally Christian nations of the West outstrip those of both animist and Muslim nations not swimming in oil. Maybe these underdeveloped lands would do better with a little more rigor in the academy and workplace and a little less time in prayer to Orisa and Allah.
Atheist Matthew Paris sees the difference. Writing in the Times of London, he reflected on a recent trip to Malawi: "It's a pity, I would say, that salvation is part of the package, but Christians black and white, working in Africa, do heal the sick, do teach people to read and write." He continued, "The Christians were always different . . . There was a liveliness, a curiosity, an engagement with the world—a directness in their dealings with others—that seemed to be missing in traditional African life. They stood tall." And yes, fridge-magnet people, the Christians pray, not as a substitute for a work, but as a context and empowerment for work.
Back to the fish once again. Might it not be just as fair to say, "Give a man Christianity and he'll give his neighbor a fish while teaching him to fish. Disparage talk of God and Christ, and you'll seize your neighbor's fish for your own enjoyment, for moral self-aggrandizement, and for distribution to those willing to become part of your power base, all the while trampling those who resist" (cf., Stalin, Mao, etc.). But I don't think that message would fit on the magnets. And I know the bookstore wouldn't sell them if it would, even though they pride themselves on their edgy fare. Pity.