Evangelicals Embracing (and Rejecting) Lent (The Gospel Coalition)
Why the Church Isn't Reaching my Unchurched Friends (Ron Edmondson)
Battle of a Different Kind at U.S. Air Force Academy (Christian Headlines)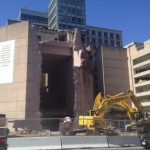 After Long Fight, Washington's "Ugliest Church" Meets the Wrecking Ball (RNS)
How Much Has Pope Francis Changed the Catholic Church?
(CBS)
Some in Argentina Still Not Convinced Pope Was Above Reproach during "Dirty War" (Irish Times)
Five Turkish Men Accused of Killing Christian Missionaries in 2007 Released with Electronic Monitors (Hurriyet Daily News)
NYC Explosion Leaves One-Third of Spanish Christian Church Homeless (Christianity Today)
AUDIO: Questions & Ethics – Should Singles Adopt? (Russell Moore)

*News stories and editorials on this page do not necessarily represent the views of the BibleMesh editorial board. BibleMesh cannot control objectionable advertising on news sites.